Small business advocates want to limit the tax breaks property owners can get on vacant storefronts. On 79th Street, three in five storefronts were vacant as of last year.
SOUTH SHORE — A proposal to limit the tax breaks landlords receive for their vacant storefronts can bring life back to Chicago's blighted commercial strips, small business advocates say.
The Cook County Assessor's Office allows tax breaks for vacant commercial properties if the owner "has made good faith efforts to lease [or] rent the property."
For years, chambers of commerce and business leaders have said the county rule opens the door for "bad actors" to keep their shops empty.
They've proposed a county ordinance to cap the frequency a property can receive the vacancy tax break at three times every 10 years. If passed, it would go into effect in January 2023.
"We're sounding the alarm on some of these land-bankers and foreign investors that are taking advantage of marginalized communities," said Tonya Trice, executive director of the South Shore Chamber of Commerce.
The tax breaks don't allow "businesses to open and create jobs — and provide services and amenities — that the residents in these communities need," Trice said.
The push gained the support of the Small Business Advocacy Council, which will use $200,000 from the Searle Funds at the Chicago Community Trust to advocate for the change.
"We have been doing this already without funding for a couple years," said Diane Burnham, executive director of the South East Chicago Commission. "Having a coalition and a united voice has kept us going."
Using the funds, the advocacy council and a host of partner organizations will lobby elected officials to support the ordinance — and if it's passed, they'll look to develop other policies that can revive commercial strips.
"We believe this [ordinance] should be passed as expeditiously as possible," council co-founder Elliot Richardson said. "It's crucial to revitalize commercial corridors now — especially coming out of this pandemic — to create jobs in struggling communities."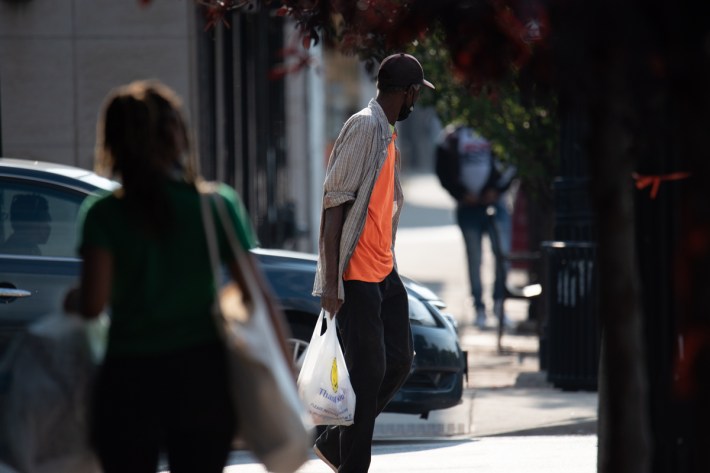 The South Shore Chamber is "one of the architects of this anti-vacancy ordinance," Trice said.
The neighborhood's commercial strips are struggling. On 79th Street, three in five storefronts were vacant as of last year, while just under half on 75th Street were empty.
Inspired by former state Rep. Robert Martwick's proposal to punish "vacancy fraud," which stalled amid political disputes ahead of Gov. JB Pritzker's election, Trice has advocated for limiting the tax breaks since at least 2018.
"Basically, what [Marwick's bill] was saying is: Commercial property owners were deliberately keeping their storefronts vacant because they could receive a tax credit," Trice said. "We put two and two together and realized that had to be happening in South Shore. We found there were other commercial corridors that were having the same problems."
Vacant shops are "eyesores" that can discourage further investment in neighborhoods, Burnham said. Her organization serves Oakland, Kenwood, Washington Park, Hyde Park and Woodlawn.
"When you improve the look and the feel of business corridors, then you start to change the look and feel of the community around it," Burnham said.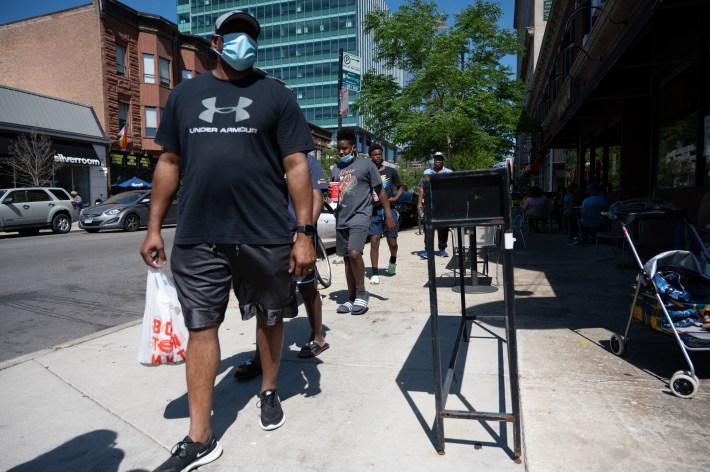 The other coalition members are the Logan Square, North Lawndale, Greater Englewood, Uptown and Cook County Black chambers of commerce, as well as nonprofit Building Strong Millennials.
But blighted commercial strips aren't unique to these communities, advocates said. They're meeting with officials across the county to garner support, though they didn't name any official sponsors.
"It's citywide and countywide," Burnham said. "People will think on the North Side there's not as many challenges, but there are still vacancies all over. It's just more prevalent in disinvested communities on the South and West sides."
The one-page proposal only addresses the frequency of vacancy tax breaks. But the rash of empty storefronts across Chicago can't solely be blamed on landlords taking advantage of county policy.
"Every vacancy is different for a reason," Burnham said, whether it's in Hyde Park's bustling 53rd Street district, 51st Street in Washington Park or 63rd Street in Woodlawn. That's why the coalition plans to develop other policy proposals if it's able to pass the ordinance.
Some shops remain vacant because the building owner can't afford to bring the property up to code.
Others are ready to be rented, but they are too expensive for local business owners; still others are owned by absentee landlords, with whom chambers of commerce and interested entrepreneurs can't get in touch.
Changing shopping habits play a role, too. The coronavirus pandemic has decimated local retail, forcing many shops to close and pushing customers to shop online.
Despite the changing market, filling empty storefronts remains a realistic goal, advocates said.
"I'm old school, and I think that there is a need and a demand still for the physical, brick-and-mortar business," Trice said. "A lot of people enjoy the experience of shopping in person, though e-commerce options do make it convenient."
"There are enough businesses and entrepreneurs who are looking for locations," Burnham said. "It's about, how do we get them into the hands of business owners who actually want to open locations?"
Even once the $200,000 grant runs out, the coalition members plan to "stay at the table with each other," Trice said.
They'll continue to advocate for policies to promote economic development, members said.
"I think we'll be able to … put forth policies that will help commercial corridors throughout the city," Richardson said. "This is all about sparking commerce and growth in local communities. That's the goal."
Original article: blockclubchicago.com